Since the debut of their OpenBook social trading platform, eToro has gone on to improve the functionality of their platforms. Now, eToro have provided their traders with 3 ways in which they can trade the markets namely with eToro WebTrader, eToro OpenBook and eToro Mobile Trader.
Regarded as the most popular forex social trading platform in the world, eToro OpenBook platform lets you follow the progress of other traders as well as lets you interact with them in real time and puts the power of networking into the palm of your hand. With the integrated "Copy Trader" feature, you can copy the trades of your more successful peers automatically in real time as well.
A web based powered trading platform, eToro WebTrader provides you with all the tools that you need to analyze your trades as well as letting you synchronize with OpenBook to copy the trades of others.
With the introduction of eToro Mobile Trader apps, traders can now also access the power of social trading with their smartphones and mobile devices.
Now in addition to forex, traders can also trade a selection of commodities and stocks with eToro's trading platforms.
Account Types
At eToro, you have a choice of two different types of trading account, standard trading account and Islamic trading account.
Opening a trading account at eToro is easy as they only require a minimum initial deposit of just $50. You can fund your trading account using the following methods:
Credit Cards
MoneyGram
Neteller
PayPal
WebMoney
Wire Transfer
Withdrawals at eToro can only be done after your have verified your account. Once you have verified your account, you can withdraw using the same method that you used to deposit your money into your trading account. Take note that the minimum amount to be withdrawn is $20.  There is also a small fee payable when you make a withdrawal. The fee is dependent on the amount to be withdrawn and ranges from $5 to $25. The stipulated processing time for a withdrawal request is up to 5 business days.
For Muslim traders who want to trade the forex market according to Shariah principles, they can choose to open an Islamic trading account with a minimum initial deposit of $1000. With the Islamic account, no interest is imposed on overnight positions and no commissions are payable as well.
Demo Account
For those of you who want to try out eToro's trading platform fist, you can always sign up for their obligation free demo account. The demo account lets you try out all the features on eToro without having to risk any real money. Instead, you will be trading with $10,000 virtual cash supplied with the demo account.
Commission & Spreads
At eToro there are no commissions payable. Instead, traders have to pay a slightly wider spread on all their trades. With the exception of Bitcoin transactions (1 pip spread), the typical spread at eToro starts from a minimum of 2 pips for the USD/JPY currency pair and 3 pips for the EUR/USD, USD/RUB USD/CHF and USD/CAD. For less frequently traded pairs, the spreads can go up to as high as 14 pips.
Customer Support
Customer support services at eToro are provided in several major languages and are available 24/5. Contact with the support team can be done through email, live chat or the telephone.
Pros
Automated Trading
Comprehensive Training Academy
Ground Breaking Social Trading Platform
Multiple choices of trading platforms
Regular Attractive Promotional Offers
Cons
High Spread
Limited Choices of Forex Pairs
Their Platforms are Non Customizable
Trading Charts lack sophisticated tools
Conclusion
There is no doubt that eToro's social trading platform is the most innovative change that has occurred during the past few years. They have single-handedly transformed a stressful trading endeavour into a fulfilling experience which feels more like game for everyone. The OpenBook platform can be said to be tailored made especially for novices of online trading who are unsure of how to start.
Though Easymarkets may fall short of the requirements of more experienced traders, the broker does an excellent job of catering to its core market of forex beginners, providing a relaxed and supportive trading environment and some excellent tools.
 EasyMarkets is a broker with a clear principle underlying its mission statement: forex should be easy.
EasyMarkets's streamlined trading environment is configured towards serving those who are new to the currency markets, and strives to simplify forex by providing the tools and support that new traders need to learn and develop.
In over a decade of operation with clients in 160 countries worldwide, the company has distinguished itself from others with a unique offering, establishing its identity as a firm that is casual and approachable, yet reputable and professional.
Balancing this relaxed and accessible brokerage model with quality execution, good customer support, and a flawless track record for regulatory compliance is no small feat, and our EasyMarkets review recognizes the firm's success in this respect.
While it may not be the most competitive in terms of execution costs, EasyMarkets sticks with its core principles of transparency and simplicity by offering fixed spreads.
For new traders, fixed spreads are almost certainly the best model, providing certainty about your trading costs even when markets become volatile. Commissions & Fees
Of course, if low spreads are your main priority, then EasyMarkets may not be an ideal choice for you.
EasyMarkets does provide a degree of flexibility within the fixed-spread model. The broker offers three different account types with different spreads depending on the amount you choose to deposit (Standard – from 3 pips, Premium – from 2.5 pips, and VIP – from 1.8 pips).
| | | | |
| --- | --- | --- | --- |
| Account Feature | Standard | Premium | VIP |
| Minimum First Deposit | No minimum | $2000 | $20,000 |
| Minimum Deal Size | from 5k | from 50k | from 100k |
| Minimum Margin-to-Risk | $25 | $250 | $500 |
| Fixed Spreads | from 3 pips | from 2.5 pips | from 1.8 pips |
Another pricing feature available is fractional pip sizes. A fractional pip is one tenth of a pip, and the availability of this pricing structure allows you to take advantage of smaller price increments and market movements. This feature should also offer some additional data in terms of supply/demand balance for shorter term price-action traders.
One thing we particularly liked was the option to turn this feature on and off (via your broker representative). If you're an experienced trader and are accustomed to conventional pip sizes then you can continue to execute with them.
Fixed-spreads rely on a dealing-desk model, which means that the spread is your only execution expense and no commission is charged by the broker. You'll also be subject to rollover charges (which the broker terms a 'renewal fee' on their website) if you carry your positions overnight. Traders should be aware that this is subject to a minimum $3.00 charge. This may mean that EasyMarkets is not the most suitable choice for longer term traders with small account balances (renewal fee attrition may negate profits on small open positions maintained for long periods).
Customer Service
EasyMarkets has a strong reputation for customer service. All new accounts are appointed a Personal Account Manager who will be available to answer any questions you may have, guide you through the setup of your charting software, and if you're new to forex they'll provide one-to-one training.
Tools & Resources
EasyMarkets scores strongly in this section, offering well beyond what the average beginner might need to research and generate trading ideas. Furthermore, all the tools are simple and user-friendly, and can be accessed directly via the broker's website.
All the usual resources are available (news feed, financial calendar, price charts, world clocks, fundamental and technical reports). The news feed is provided by Reuters, which offers unusually good value at this level.
Two unique tools that we thought were particularly good were EasyMarkets's proprietary 'Trade Controller' and 'Inside Viewer' features.
At first glance the Trade Controller may look gimmicky, but on closer inspection it provides a powerful visual representation of an open trade's parameters, allowing you to adjust elements such as stop-losses and profit-targets to view alternative scenarios. This is great if you're new to trading, as it will encourage you to engage critically with your own trading decisions and think in terms of probabilities and scenarios, actively assessing reward and risk.
The Inside Viewer takes a feature we've already seen in some of the financial spread betting provider platforms, and helpfully expands upon it.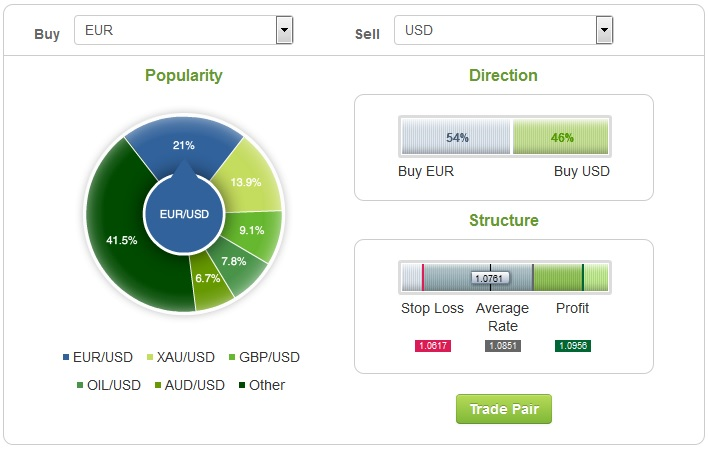 One of the common complaints from forex beginners is the lack of volume data available for the currency markets. Inside Viewer solves this problem, giving an insight into the positions of other traders. You can view the popularity of an instrument, the number of traders who are long and short, and also the 'structure' or parameters of their trades – average stop loss positions and profit expectations. Though limited to those accessing the markets through EasyMarkets and making day-trades, this is still a significant number of market participants.
The only way the Inside Viewer could perhaps be improved is if access to the historical database was provided for statistical analysis, rather just live positions. As beginners, however, the majority of EasyMarkets clients are unlikely to be immersing themselves in such complicated analysis.
One area we thought EasyMarkets might be able to improve is its daily market outlooks. These do not appear to have been updated on site throughout 2015. While we imagine that this is due to their lack of popularity, it would perhaps be good to see an outlook published with less frequency, such as a weekly report for all markets.
Trading Platforms
EasyMarkets offer both MetaTrader4 and their own web based, desktop and mobile platforms; we'll be focusing on the latter three products here (you can read a MetaTrader4 review here).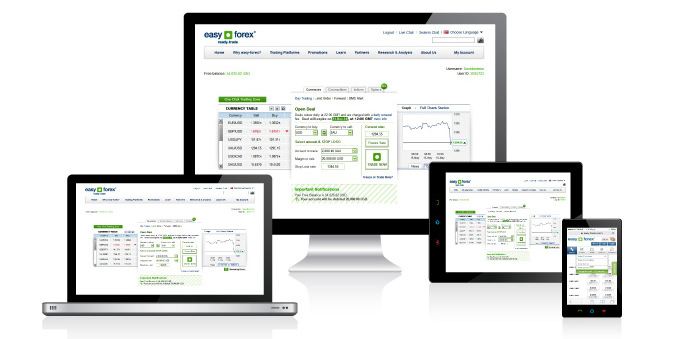 First up is the Visual Trade Machine web platform . . .
Though online streaming charts are available via the broker's website, you'll have to navigate to a separate page to view them (a link is provided in the order panel). The web platform is really just a dramatically stripped-down order execution platform that puts a premium on simplicity.
While there's little here to daunt new traders, tabs allow access to the Inside Viewer, and order entry parameters are neatly presented. Tabs allow you to move between order types, and instruments (grouped as currencies, indices, and commodities).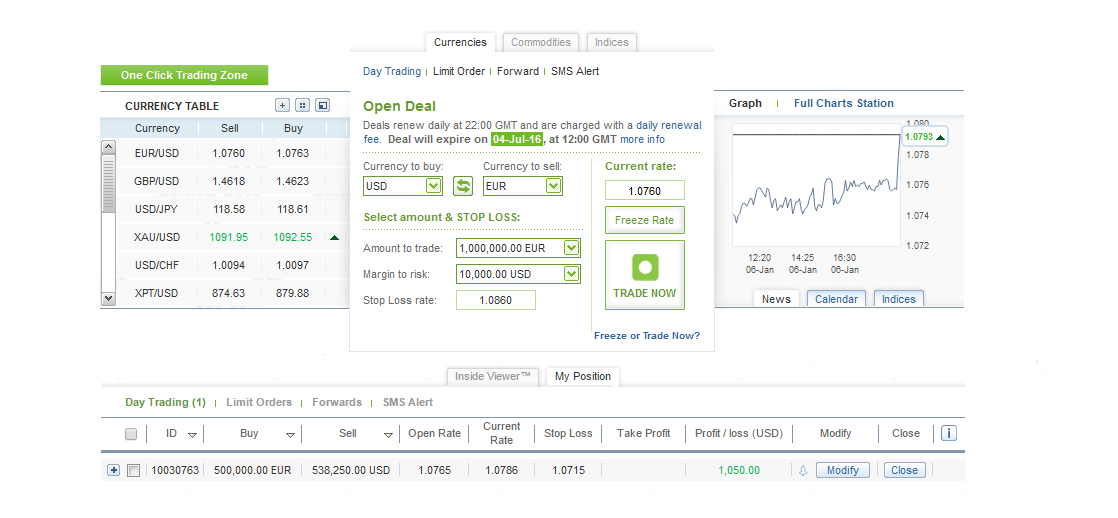 Worth noting is the ability to 'freeze' quotes, locking in the broker's quoted price for a few moments before you open your position. Re-quotes are another common gripe among new forex traders, and the 'freeze' function isn't one that is offered by most of EasyMarkets's competitors.
For more feature-hungry clients, there is the choice of the Trade Desk (which we didn't test) – a downloadable web platform, which interacts with Visual Trade Machine so that open orders can be controlled and modified from either application. Most will probably simply opt for MetaTrader4 though.
With an obvious knack for simple design, EasyMarkets' Mobile Trading solutions ought to be good, which they are: better, in fact, than the web trading platform!
You're presented with the choice of apps designed for Blackberries, iPhones, or a Mobile Site for smartphones with browser capabilities.
Hate
losing

a trade?
A unique easyMarkets tool to trade risk-free!*
Undo your losing deals with dealCancellation up to 60 minutes

DealCancellation gives you the power to cancel a losing deal within 1 hour and have any losses returned.
Look for the dealCancellation icon on your trading ticket.
When to use dealCancellation?
Make that trade!
Committing to a trade can be an unnerving step. Take away the fear, make your trade and if it goes against you just cancel it – like it never happened!
Bigger deals
Ever wanted to up the stakes in your trading and make bigger deal sizes? Now you can, safe in the knowledge that if the market is not in your favour you can cancel the deal.
Trade the big events, safely!
During big announcements like NFP releases, many brokers disable trading. We don't! Make the most of the opportunity and protect yourself from the risks.
Volatility can be your friend
Volatility can be your friend as market volatility means more opportunity, but also more risk. Take away the risk with dealCancellation and cancel your losing deals.
Conclusion
If you're completely new to forex trading or the financial markets, then EasyMarkets should certainly be on your list of brokers to consider. EasyMarkets scores about average in terms of costs and fees, and may be prohibitively expensive for position traders with small accounts. Through fixed spreads and quote freezing, the broker provides certainty and security over cost efficiency. Customer service is everything that you would expect from a broker that specializes in accessibility and education for new traders, and the range of tools and resources offered by EasyMarkets is excellent, and includes several well designed and unique solutions that provide a simple visual representation of information about the positions of other market participants.
If you fall into the group that EasyMarkets has configured its well-developed forex brokerage offering around – beginners in need of personalized guidance and a structured and supportive trading environment – then this choice of broker will be hard to surpass.